puppies
After 9 weeks with Tibetan names…
ARYA
Majestic (660/11900g)
ARPA
Robber (640/10600g)
ASURA
Demon, Titan (580/12000g)
ACCHAR
Amazing, Phenomenal (650/12100g)
ARNAG
Black Aloe (655/11400g)
And after 6 weeks… (6,2 – 7,8 kg)





Three boys and two girls in four weeks (16.1.2011).





On 19.12.2010, they were born us five Puppies. Three boys and two girls.
See their Photos in the first two weeks (up to 31.12.2010).





Beyonce is in pup! Puppies will be born about the December 17, 2010.
Breeding plan for the year 2010-2011 - BEYONCE DRAKYI & HERCUL NARPO RANSI
Puppies will be in black and tan and golden colors. They will be socialized and kept in a family with children. The Breeding service (training at the breeding station) makes it possible to use dogs for breeding, for exhibitions and also for free time as a company.
BEYONCE
Born 21.9.2007. The new blood in Europe – Drakyi line. The mighty female dog with the high 66 cm and with the beautiful, long hair, DKK 1/1. The detailed information here.
HERCUL
Born 15.12 2008. The mighty dog with the high 75 cm, with the long, consistent hair, DKK 0/0. The awards from two exhibitions:
- Czech Club Show KCHMPP 2010 – V1, CAJC, Junior Club Winner
- Czech Club Show KTD 2010 – in the category Young Dogs the classification V2 from 14 dogs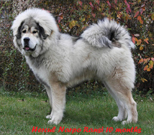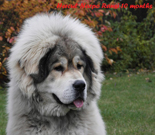 Pedigree